You are here
Main events calendar
Past Events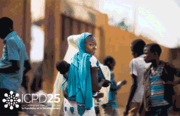 12 November 2019 - 14 November 2019
Nairobi, Kenya
Accélérer la promesse
Cette année marque le 25e anniversaire de la Conférence internationale sur la population et le développement  (CIPD), qui s'est tenue au Caire en 1994. Lors de cette conférence, 179 gouvernements ont adopté un programme d'action reconnaissant que la santé en matière de reproduction, l'autonomisation des femmes et l'égalité des sexes comme des vecteurs du développement durable. 
Details
19 August 2018 - 19 August 2018
Global
World Humanitarian Day is a time to recognize those who face danger and adversity in order to help others. It is also an opportunity to celebrate the spirit that inspires humanitarian work.
Today, millions of people around the world are affected by crises and need humanitarian assistance. Women and girls face especially difficult challenges in these situations. The risk of violence escalates, and their access to health care declines. More than half of all maternal deaths are believed to occur in fragile states and humanitarian settings.
Details
12 August 2018 - 12 August 2018
Global
In 1999, the UN General Assembly designated 12 August as International Youth Day. It is an annual celebration of the role of young women and men as essential partners in promoting human rights and development. It is also an opportunity to raise awareness of the challenges and hardships facing the world's youth.
Details
Pages